How the Joneses are changing the medical field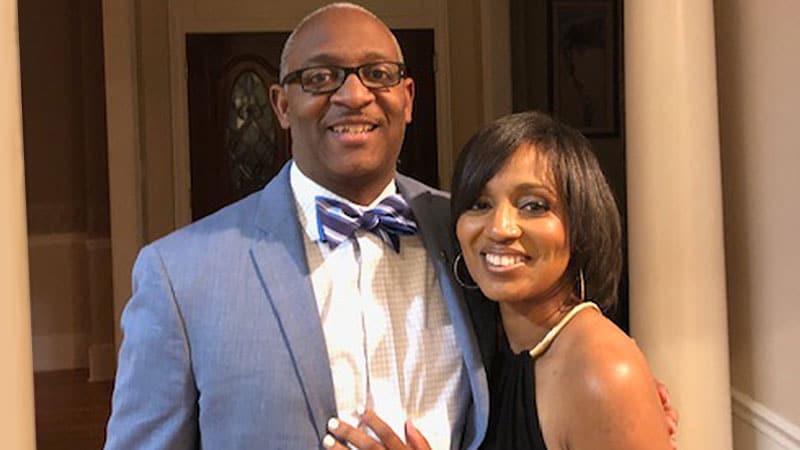 Medscape's Medical power couples is a new series highlighting prominent spouses or domestic partners in healthcare. Both achieved high-level professional success and made significant contributions to their respective fields.
Frank Jones, MD, MPH, and Jada Bussey-Jones, MD
Frank Jones and Jada Bussey-Jones pose for a photo.
Frank Jones, MD, MPH, recalls the disappointment he felt after being rejected twice from medical school. On his third attempt, he was placed on a waiting list at Morehouse School of Medicine in Atlanta and narrowly narrowed when a spot became available at the last minute.
Now a professor of surgery at Morehouse, Jones says his daunting experience inspired him to develop a unique program that helps black applicants and other underrepresented minorities have more success with the medical school application process. and at the residence. Frank's company, Pre-Med Solutions, offers guidance, support and financial resources to prospective medical students. The mentorship program has helped over 30 minority students who went on to medical school.
"As I struggled, I always said, 'All I need is a chance. If I ever make it to med school and succeed and become a doctor, I will spend my time helping other students on my ship get to med school. school," said Jones, 58, who chairs the board of the Atlanta Medical Association. "It was passion that drove me to start the nonprofit counseling service."
His wife, Jada Bussey-Jones, MD, 55, notably improved another area of ​​medicine that often lacks diversity: faculty leadership. Chief of General Medicine and Geriatrics for Emory at Grady Memorial Hospital in Atlanta, Jada helped create one of the most diverse graduate schools for women and doctors of color in the nation. To support career advancement, Jada has created a structure that identifies opportunities for growth, provides one-on-one career coaching, and recognizes the accomplishments of women and underrepresented faculty in medicine (URiM).
"It's important to note that 50% of our URiM and 63% of female professors achieved senior academic rank, including four black females who achieved full professor rank," Jada said. "We are pleased to have been recognized for our work at our school and beyond. I was honored to be recognized with a prestigious institutional award – Exemplary Teacher of the Year.
"My partner, Kimberly Manning, MD, and I have also been invited to speak about our work at several national venues, including the Association of American Medical Colleges, Alliance for Academic Internal Medicine, Society for General Internal Medicine as well as countless academics and community organizations about our successful structure."
A whirlwind romance
The Joneses first crossed paths at a summer program when Jada was in high school and Frank was in college. When their roads aligned again a few years later at a social event, Jada decided to move on.
"For me, there was a spark, so much so that I gave him my phone number," she recalls. After less than 2 weeks of dating, the couple were talking about plans once married, Frank says. He proposed to Jada at an Atlanta comedy club where comedian Rickey Smiley was performing.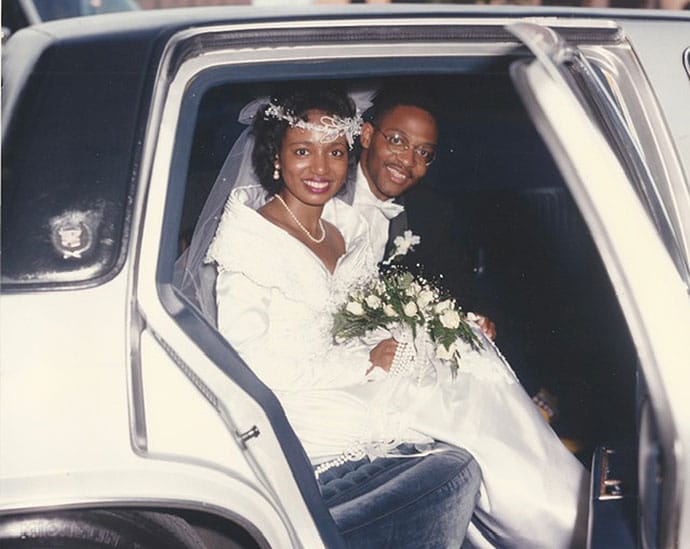 Frank Jones, MD, and Jada Bussey-Jones, MD, on their wedding day.
"I called the theater ahead and said I wanted to propose to my girlfriend," he said. "Rickey called me on stage. A lot of people in the audience were our friends and we had our moms there. I called Jada on stage and proposed. But after that Rickey made us the target. of his jokes for the rest of the night — and it was a little steamy, to say the least. It was a little awkward having our moms there!"
Thirty years and two sons later, Frank and Jada are still going strong.
Life: In Their Own Words
Which actor or actress would play you in a film about your life?
Jada: Jada Pinkett-Smith. We have the current thing-name.
Frank: Spike Lee. People say we look alike.
What is a food that the other eats and that you can't stand?
Jada: Nothing. It is a type of meat and potatoes. If anything, I wish it was more adventurous!
Frank: Seafood
If you could change one thing to another, what would it be?
Jada: Maybe to be on the same program. He is very night owl and I am a morning person.
Frank: I wish she didn't work so hard.
What's the weird thing you have in common?
Frank and Jada: We both love Tik Tok.
What would surprise people to know about you?
Jada: I was the only girl on a baseball team in a youth league when I was about 12.
Frank: I love to dance, and I love rap and hip hop.
more success
In addition to her position at Grady, Jada is also Director of Education for Emory's Urban Health Initiative and a nationally recognized leader in minority health, health equity and patient/provider communication. His work has resulted in an award-winning national disparities course, web-based educational modules, and two national disparities symposia at the Society of General Internal Medicine and the Association of American Medical Colleges.
Frank is a clinical professor of surgery at the Philadelphia College of Osteopathic Medicine in Suwanee, Georgia, and an adjunct associate professor of surgery at Morehouse School of Medicine. He is chairman of the board and past president of the Atlanta Medical Association, and director of medical services for the Hosea Feed the Hungry Foundation.
"There's no doubt that being in similar fields makes us stronger," Frank says. "We sit down and strategize. We brainstorm ideas. We discuss ideas and collaborate."
Alicia Gallegos is a reporter for Medscape Business of Medicine based in the Midwest. She has previously written for American Medical News, ACP Internist and AAMC Reporter. Contact Alicia at [email protected] or via Twitter at @Legal_med