Murray teenager to study medical field on trip to Vietnam | Local News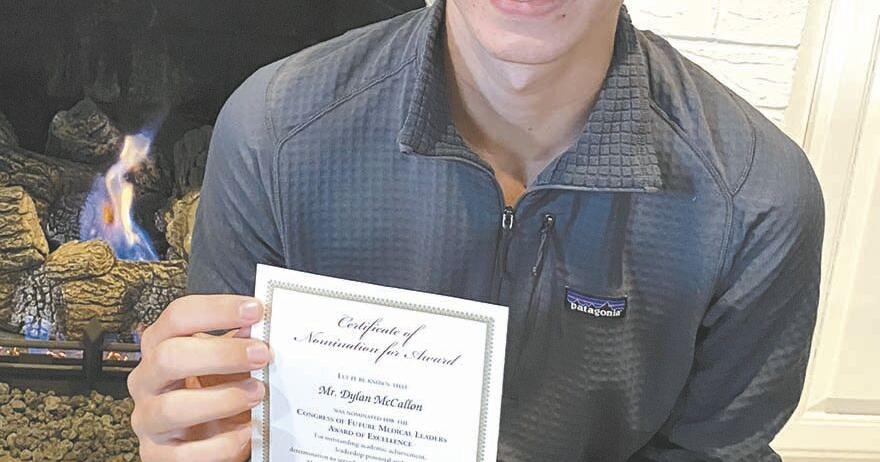 MURRAY- It's probably fair to say that most 16 year olds don't know what they want to do with their lives. Even fewer would make the effort to travel halfway around the world to study their chosen field.
Dylan McCallon, on the other hand, is far more passionate about a career in medicine than most teenagers.
McCallon is the son of Melanie McCallon Seib and Dale McCallon and is currently a sophomore at Murray High School. This summer, he will participate in a study abroad program for American high school students called FutureDocs Abroad.
"I'm going to Vietnam for two weeks to study in medical school, and I'll be going to a local hospital every day to observe medical professionals in several different fields of medicine to see what it's like and get a idea of ​​what field I like the most," McCallon said. "It's a very different experience than anything offered to high school students in the United States."
McCallon said her enrollment in the trip was due to her involvement with the National Academy of Future Medical Leaders and Physicians. Towards the end of March, he attended a virtual NAFML conference called the Future Medical Leaders Congress and found it very informative.
"It was a weekend where all of these healthcare professionals came to talk to you, and it was a great learning experience and very beneficial for me," he said. "It was very interesting to hear what they had to say."
Melanie said an anonymous MHS teacher nominated Dylan to attend the conference.
"It was really great…he would come out (of his room) during breaks and say, 'You wouldn't believe who we just heard from,'" Melanie said. "And then he was telling me about a Nobel laureate (Mario Capecchi) who had discovered gene targeting."
Dylan said he was very excited for the next trip, which is scheduled for July. He said he had been interested in a career in medicine for some time.
"When I was younger, (the medical field) always interested me," Dylan said. "I guess I was naturally drawn to it for some reason. Part of me later thought, 'No, it's way too hard for me to get into it, so I don't know if I'll be able to. to do that.' But then when I was invited to (the NAFML conference) it made me rethink and I decided that this was going to be a great opportunity. I think it will be a great idea for me to go ( on this trip) The medical field is something that really interests me because I always want to help people in any way I can.
Melanie said she first noticed Dylan's interest in sports medicine.
"The first time I noticed him as a parent was when he started talking about sports medicine," she said. "He played football for Murray High and he played for years and years through Bee Creek and Revolution and on the college team, and he started getting into sports medicine. is kind of developed…because there are so many interesting areas (in medicine).
Dylan talked about his expectations for the trip to Vietnam, based on what he's read and heard from others who have already gone.
"I know that every day you can go see a different area of ​​medicine that you want," he said. "For example, one day I might go see a live operation on someone's shoulder. Some people who have talked about going there have delivered a baby, so the next day I might go to a gynecologist and see that. Or one day I could work on a cadaver and do some rough anatomy. Everything varies depending on what you want to do. There are only 100 students that can go there (on each trip), so I think it's very open to what you want to do.
"We'll all be staying in one place, but in the morning when we get up I think we'll be assigned to groups of 5-10 and then head off to see the area of ​​medicine we want to see for that day."
"It was interesting when there was a session that they had former students who went through the program," Melanie said. "Hearing them was very helpful to me as a parent, and to Dylan as well, to hear these students talk about how eye-opening it was for them. Some said they had observed surgery and realized that they didn't want to be surgeons. A woman who participated in a program delivered several babies in one day, so she realized she wanted to go into pediatrics. It was really interesting to hear the clarity from the students after they participated as high school kids (to see that they) had so much direction at that time (of their lives) was really awesome.
"I'm excited and proud for Dylan to have taken such a big step," said Dale McCallon. "Whether or not he pursues a career in the medical field, an experience like this will teach him so much more about the world. He has already experienced so much travel and culture at his age, but this will be his first solo adventure and I'm sure his eyes will be opened even more.